Welcome to Street Fighter Paradise!
THE CHARACTER COMPENDIUM
The plan is for this page to eventually contain links to the sheets for all of the characters, both major and minor, from all of the Street Fighter RPG supplements. Right now I have all of the sheets up, and I'm working my way through images. Enjoy!
THE WORLD WARRIORS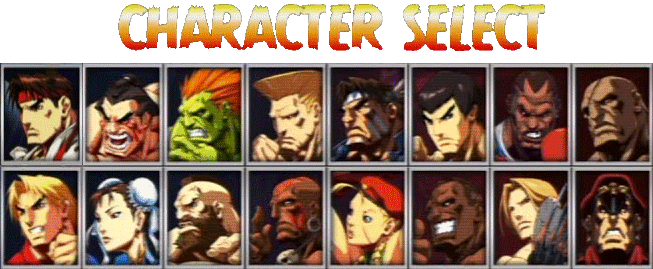 Ryu | E. Honda | Blanka | Guile | T. Hawk | Fei Long | Balrog | Sagat | Ken | Chun Li | Zangief | Dhalsim | Cammy | Dee Jay | Vega | M. Bison
STREET FIGHTER - THE STORYTELLING GAME


















The Weasel (Arthur Parkington) | Mr. Ray's Thugs | Samson Jr. | Mr. Ray | Tough | Gangster | Warrior | Cop | S.W.A.T. | Genin | Jonin | Veteran | Lifer | Carte Blanche | Special Agent | Pantara | Dehrik Savitch | Denzil Kincaid | Amanda Raintree
SECRETS OF SHADOLOO





















Blade | Leander | Lotus Blossom | Siren | Kahn | Fernando DeGaul | Kwa-so | Kallista | Drake | Corona | Elias Synn | Theon | Revenant | Mrigankalese Jungleman | Evil Monk | Aka Zahn | Giant Squid | Elite Robot | Dulcinea | Genin Matador | Diablo
SHADES OF GRAY





Carl | Lars | Jade | Natalie Hansen | Brett Hansen
PLAYER'S GUIDE
















Jacques Desroche | Yuki Takada | Jaq | Paco "The Icepick" Juarez | Sapphire | Samson Prowse | Nick Fontana | Harpol Jhaliwal | "Major Carnage" Vladislav Kolchenko | "Hammer" Hideo Izumo | "Anvil" Greg Hart | "Hikodoshi" Akira Leung | "Orihime" Kyoko Kimura | "Shoujo Tora" Yuki Otonashi | "Kuma Mizu" Hiroshi Matsuda | "Seirei Kaji" Hikaru Matsude
CONTENDERS















































Alexander | Arslan | Phoenix Bright | Carl "Crusher" Corcoran | Dhakmar | Drakis | Dunatis | Gina Gibson/GX-9 | Kai | Kiritan | Lady Khan | Sarah Lewis | Matrix | Midnight | Praetorian | Jackie Quace | Ravana | Rix | Shade | Shan Lung | Mace | Legion | Nychus | Randi Cooper | Izzy Cooper | Col. William Stanton | The Mollusk | The Thing That Should Not Be | Sss'lussthu-kha | Reba Miller | The Chain | Dana the Pole | K.O. | Eric the Red So Fine | Jack the Mechanic | Wesley Adams (Cyndi Bell) | Ken "Bluegrass" Paducah | Freddy "The Flailer" Earther | Rosie | Tick and Tock | Vanda | Gonzo Bob Hellstrom | Cyclone Garetti | Jason Best | Marcie Calahan | Dr. Lao | Sai | Wolf Sprenger | Master Takashi
THE PERFECT WARRIOR










Vision Creature | Jean Lemonte | Master Xaudo | "Backhand" Bonnie Brown | Mustafa | Sanjo Hidetoshi | Fixer | "Hercules" Harrison | Castor Mitaxis | The Phoenix